No Rider Left Behind!
Family-friendly Rides
In 2013, rides begin the earliest they've ever started! Rides begin on Monday, May 13, and continue throughout the summer weekly, depending on the availability of ride leaders. Meet in front of Newton Free Library (the Homer Street entrance, near the bike rack) at 5:45pm. All rides begin at 6:00pm sharp.
These rides are designed to show bicyclists that riding on the road with traffic is safe and enjoyable; routes all involve a mix of residential and arterial roads, including intersections with traffic lights. The pace is slow to moderate.
Watch for Sunday Middle-Schooler Rides beginning in June!
Riders must:
be accompanied by an adult if under 12 years of age
wear a helmet
have a bike in good working order
be ready to ride 7-8 miles on roads and in traffic
We could always use some help. If you are an experienced rider, volunteer to lead or sweep! Questions? Email Nathan Aronow, Ride Coordinator, or call him at (617)-999-9924.
Note: ride routes may change at the discretion of ride leaders and/or agreement by participants. (e.g. if it's unanimous on a Cordingly Dam day that everyone would rather go to Echo Bridge, so be it, or if part of a route appears unsafe for participants, leaders may make last-minute adjustments.)
Ride 1: Echo Bridge, 7.1 miles
Monday, May 13
Ride 2: Cordingly Dam, 7 miles
Monday, May 20
Ride 3: Chestnut Hill Reservoir, 8.1 miles
Monday, May 27 (Memorial Day)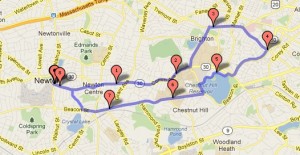 Ride 4: Auburndale Cove, 7.3 miles
Monday, June 3
Ride 5: Newton Community Farm, 7.3 miles
Monday, June 10
Ride 6: Russo's Market, 7.3 miles
Monday, June 17
Ride 7: Echo Bridge, 7.1 miles
Monday, June 23
Ride 8: Cordingly Dam, 7 miles
Monday, July 1
Ride 9: Chestnut Hill Reservoir, 8.1 miles
Monday, July 8